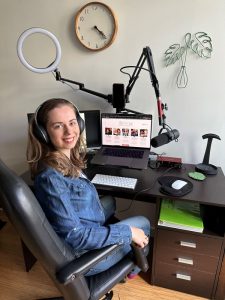 Kira Dineen '17 (CAHNR) has established a two-pronged career in genetics: helping patients as a prenatal genetic counselor, and sharing the latest in genetic science with thousands of listeners through her weekly podcast, DNA Today.
Dineen, who has a degree in allied health sciences from UConn, developed an interest in genetics as soon as she began learning about it in middle school. She was fascinated by how genetics serves as the basis for other kinds of science, including biology, medicine, and psychology.
"I think it's such an interesting field because of how fast it changes," Dineen says. "It's never boring, there's always something new. And there's so many different career paths with genetics."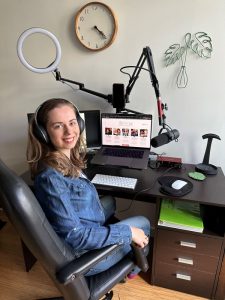 Dineen wanted to share this interest and the new knowledge she was gaining with others. She decided to launch her podcast DNA Today in 2012 as a high school senior in Brookfield, Connecticut. Initially, Dineen wanted to use the podcast to connect with experts in the field and learn more about different topics in genetics.
Since then, the show has aired more than 200 episodes and boasts an average of 3,500 downloads each week. DNA Today has won the Best Science and Medicine Podcast in the People's Choice Podcast Awards three times.
"I love being able to reach people. I love being able to connect with the rare disease community, other genetic conditions, and other experts in genetics to keep those relationships going."
UConn Days
In the early days of the podcast, Dineen says UConn helped her hone her podcast skills. The show has been broadcast on UConn's student-run radio station WHUS since 2014.
As a student at UConn, Dineen had the opportunity to interview Henrietta Lacks' granddaughter and great granddaughter when they came to speak at UConn in 2015. Henrietta Lacks' story was brought to light by Rachel Skloot, author of "The Immortal Life of Henrietta Lacks." Lacks was a Black woman whose tumor cells gave rise to the first immortalized human cell line (HeLa cells) and paved the way for countless medical advances. These cells, which are still used in research today, were taken without her express consent. The episode stands out as one of Dineen's favorites.
"I was able to catch up with them and do a quick interview backstage, so that was really cool," Dineen. "It was awesome that UConn had that opportunity for that kind of presenting."
Dineen has also interviewed celebrity patient advocates like Lauren Potter, who played Becky Jackson on "Glee" and has Down syndrome; and Atticus Shaffer who played Brick Heck on "The Middle" and has osteogenesis imperfecta.
"I think it's so important to be focused on elevating patient advocates and seeing them as equals to genetic healthcare providers and how much they can bring to the table," Dineen says. "I really hope that over the years that happens more and more, but it's exciting that just with the show and community I've created, I can do that."
Aside from hosting DNA Today, Dineen works full-time as a prenatal genetic counselor in Stamford, Connecticut.
Dineen completed the Diagnostic Genetic Sciences (DGS) program in the Department of Allied Health Sciences and received a master's degree in genetic counseling from Sarah Lawrence College. At UConn, Dineen worked in the labs focused on genetics and genomic science.
The DGS major's emphasis on understanding and performing genetic analysis allows Dineen to know which tests to order and what they can and cannot tell her in her work today.
"I loved that DGS was specifically focused on genetic testing," Dineen says. "It's a perfect set up for genetic counselors to have experience with genetic testing. So much of what I use in my daily job is pulled from DGS."
Dineen says her experience in the close-knit DGS program, which has an average class size of 14 students, also provided her with knowledge of the rare genetic conditions she often sees when working with families. Many of her patients are people whose pregnancies carry a high chance of a genetic condition. She adds that she still goes back to the slides from DGS classes taught by faculty members Martha Keagle and Judy Brown.
"Having so many years of exposure to these disorders in an academic setting and connecting with patients that are living with the conditions has been a huge benefit in the work I do," Dineen says. "DGS and the information students are given through the program set us up for successful careers in genetics."
After 10 years of producing DNA Today and working as a genetic counselor, Dineen says she is still amazed by how much new information we are constantly learning about genetics.
"The more we learn about it, the more we realize how much we don't understand about genetics, and for me that's fueling," Dineen says.
Follow UConn CAHNR on social media