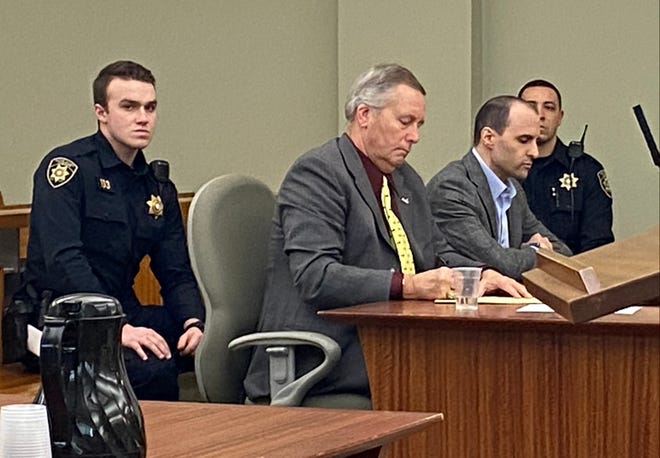 WARWICK – A Superior Court judge on Friday rejected the insanity defense of a 37-year-old man who bludgeoned and slashed to death a jogger in Warwick City Park in 2013.
The defendant, Michael Soares, had convinced two forensic psychiatrists that he was not criminally responsible for the killing of John "Jack" Fay.
And both experts – one testifying for the prosecution, another for the defense – had shared that conclusion during testimony before Judge Luis M. Matos earlier this month.
Dr. Patricia Recupero, also a lawyer, told Matos that Soares' schizophrenia fed thoughts about vampires, and about magical things that might happen if he attacked Fay.
Meanwhile, Recupero and the prosecution witness, Dr. Christopher Matkovic, also cited schizophrenia and testified that Soares hadn't been able to conform his behavior to the law.
As he delivered his verdict Friday afternoon, Matos pointed out that, under Rhode Island law, a judgment about whether someone is sane enough to be responsible for a crime is a legal matter decided by judges and juries.
He also noted that the burden is on the defendant to prove he or she is not guilty by reason of insanity.
Matos had analyzed factors such as the substantial time that had elapsed between the crime and when the two psychiatrists had talked to Soares. He had also examined some statements attributed to Soares in 2014. Soares had sought treatment at Kent Hospital, telling staff he felt violent impulses. He was asked if he had been violent previously.
"He clearly had done something violent," Matos said.
"He was self-aware enough in 2014 to deny any prior violence," Matos said, adding "what has been referred to as his baseline intelligence appears to have allowed him to grasp the basic concept of an insanity defense and concurrently attempt to absolve himself of the crime."
"The objective evidence undermines his effort," he said.
Matos provided his analysis of the witnesses' comments about Soares's ability to appreciate wrongfulness, which is one of the things that the defense must disprove to prevail with an insanity defense.
"Based upon the evidence, the court cannot find that the defendant has proven by preponderance of the evidence that there was a relationship between his mental impairment and his crime," Matos said.
"He has not proven that he did not appreciate the wrongfulness of his conduct or that he could not conform his conduct to the requirements of the law," Matos added.
Soares sat with his hands crossed and his forearms against the edge of the table in front of him.
The killing, early in the morning, challenged investigators for years.
They believed the killer had left DNA traces of himself on Fay's body and on a hammer, but they hadn't been able to identify a suspect.
Warwick police detectives then worked with forensic experts who compared the DNA profiles to collections of DNA that were developed for the purposes of genealogical research.
One of Soares's distant cousins had submitted her DNA for testing. The investigation eventually narrowed the search down to Soares.
He matched the background of the DNA found at the scene – Portuguese and Middle Eastern lineage. After that, DNA swabs from Soares matched DNA found at the scene.
He was arrested in February 2019.
Matos' verdict on Friday brought applause from friends and family of the victim.
"I was a little surprised," said Fay's daughter Meaghan Fay, who lives in Los Angeles.
But she had sensed that the amount of time that Matos had allowed himself to deliberate might be significant. She had braced herself.
"I wasn't sure how it was going to go," she said, "but I think he saw things the way our family saw things, which I'm very happy about."
Sentencing is set for March 3.