Good Wednesday morning!
In today's Your Daily Phil, we interview JCRC-NY's Gideon Taylor, and feature op-eds by Jamie Geller and Noach Levin on AI and philanthropy, and by JEP's Samantha Vinokor-Meinrath on fighting antisemitism. Also in this newsletter: Lily Ebert, Annie Keith and Katie Couric. We'll start with a project to help Holocaust survivors locate their long-lost relatives.
When people think of the increasingly popular trend of DNA testing, they may picture the breakdown of ancestry that, for example, might tell someone they're 99.9% Ashkenazi Jewish. But a new project by genealogists Jennifer Mendelsohn and Adina Newman is using DNA test kits for a different purpose — mapping out the relatives of Holocaust survivors — and they just got some crucial help from Ancestry, a leading provider of the kits.
Ancestry has given Mendelsohn and Newman's initiative, called the DNA Reunion Project, 2,500 DNA test kits, at a total estimated value of $250,000. The project, which launched in November and is housed at the Center for Jewish History in New York City, distributes free DNA testing kits to survivors and their children. The results of those tests include lists of people with whom the person shares DNA. Mendelsohn and Newman can use those lists, in combination with other sources like marriage and birth records, to find survivors' long-lost family members.
Using the results, the pair have identified the parents of child survivors, or helped locate a distant living relative. Mendelsohn is a journalist and Newman has a doctorate in education; both have been working as genealogists in recent years and have expertise in reconstructing Jewish family trees.
"The Holocaust created many situations where the paper trail is either disrupted, severed, problematic, and DNA can answer those questions," Mendelsohn told eJewishPhilanthropy. "When there's a match between what you're seeing in DNA and what you're seeing in records, that is pretty ironclad."
Tracing Jewish genealogy can be especially difficult, she said, because of endogamy and a dearth of records. "Basically, on paper Jews often look more closely related than they really are, and Jews tend to share DNA with other Jews to whom they are not really meaningfully related," Mendelsohn said. "The records are not as easily accessible. You have to know which archives to hit up in Eastern Europe."
Since the beginning of the project, Mendelsohn and Newman have distributed some 100 testing kits, but have 800 requests pending. Mendelsohn is not aware of any previous effort like this that has used commercial DNA tests, and said the work is particularly urgent now as the survivor population dwindles.
"Our pie-in-the-sky ideal goal is to connect people, possibly, to living relatives who survived who they didn't know survived or who they just didn't know, but this process of testing can also just help people build their trees back further," Mendelsohn told eJP. "It empowers people to take back their history, which was wiped away from us."
the ask
JCRC-NY's Gideon Taylor on Israel, Holocaust education and fighting antisemitism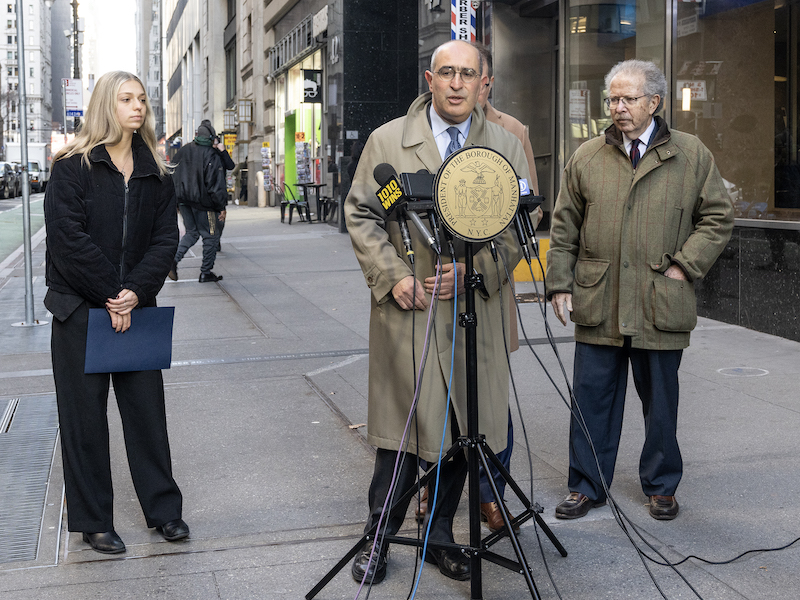 In the year and a half since Gideon Taylor took over as CEO of the Jewish Community Relations Council of New York, the large nonprofit with a $9 million budget has confronted rising antisemitism, dealt with a new mayor and City Council, and continued to navigate a city whose population and rhythms are in constant flux. Taylor — who also serves as board president of the Claims Conference — sat down with eJewishPhilanthropy's Ben Sales at the Midtown Manhattan office of JCRC this week to discuss antisemitism, elected officials' changing attitudes toward Israel and what declines in Holocaust knowledge mean for the fight against hate.
Four challenges: "Firstly, we have an increasingly fractured Jewish community," Taylor told eJP. "Secondly, we have rising antisemitism both on the streets from the bottom up, and top down from the internet, influencers and personalities. A third challenge is it's just a very rapidly changing political, demographic New York, and I think we need to stay ahead of that… Fourthly is the relationship with Israel and building support around Israel. All of those make this a tumultuous time."
Taking officials to Israel: "Going to Israel for us is not about a person coming back from Israel waving a blue-and-white flag. It's about people understanding the complexity," Taylor said. "Certainly people are coming from different perspectives, perhaps, than earlier generations of City Council members came from. OK. That's our challenge. But almost a quarter of the City Council — our biggest-ever delegation from the City Council in any recent memory — was on that visit. That's important and that's opening people's minds. People will still have views about Israel and what goes on, and that's fine."
A 'common language' of memory: "For the generation before, Auschwitz is a common language," he said. "Everyone understood that when you talked about Auschwitz, this was where humanity's depravity can lead to. And that's important because then people can understand, OK, this is where this can end up. When you have a generation growing up that doesn't understand that, that doesn't know what Auschwitz means, or the importance of Auschwitz, I think that's challenging because I think that makes much more difficult the task of educating the generation about tolerance."
into the future
Digital predictions and trends for Jewish nonprofits to watch in 2023
"As we look towards a faster-paced, more curated and more connected year, we see tremendous opportunities for Jewish organizations to leverage technology for their betterment. So here are some predictions for 2023, with links to some of the interesting tools bound to shape the year ahead," write Jamie Geller, chief media & marketing officer at AISH, and Noach Levin, director of advancement at MEOR, in an opinion piece for eJewishPhilanthropy.
Users' choices educate the machines: "While artificial intelligence (AI) has been around for years, its use is on the rise in software and workflows. One recent example is the viral rise of ChatGPT, an Elon Musk-funded OpenAI project, which reached 1 million users in five days (compare that with Facebook which reached the same milestone after 10 months). Another viral example is Deep Nostalgia — MyHeritage and D-ID partnered to offer the world the ability to take old family photos and bring the images to life through realistic AI-driven animation. OpenAI's text-to-image generator, DALL E, enabled users to generate images using text descriptions and optimize the results, and enabled the machine to learn more from every user's choices. Descript has revolutionized video editing through an AI-generated transcription-based editing user interface, and Anyword democratizes copywriting by generating entire articles from mere headlines, predicting the performance of the copy along the way."
We robot: "Concerns around AI span from an inevitable robot takeover (believed by Elon Musk and Stephen Hawking) to identity theft through the usage of deep fakes — artificial videos of people that appear real. Some will argue that AI is removing humanity from artistic expression, blurring the lines of authorship and originality. Others will say that it enables democratized access to creativity in all forms. But there is no question that these tools are here to stay."
The connection to Jewish philanthropy: "A benefit unique to the nonprofit world is the rise of tools like Hatch.ai, which enables development departments to engage with donors and alumni efficiently and more intelligently. The rise of MyHeritage's AI Time Machine is a case study we may be talking about for years. As people made shareable, creative, playful avatars and shared them on social media, it drove more curiosity about the tool, feeding one of MyHeritage's key performance indicators of registered users. This illustrates the value of incorporating cutting-edge technology; it is not difficult to translate this idea into something that would fit the playbooks of Jewish nonprofits."
on the frontline
Becoming antisemitism first-responders

"Over the last year, many in the field of Jewish education have found ourselves in the position of becoming antisemitism first-responders. In this role, we are faced with the challenge of pivoting from our thoughtfully laid-out pedagogic goals to meet the most immediate needs of the day: How do we make sense of the rising hatred that targets our community? What does it mean to stand up to those who manifest the most modern iterations of the world's oldest hatred? And how does Jewish joy brighten the darkness that antisemitism so often brings?" writes Samantha Vinokor-Meinrath, senior director of knowledge, ideas and learning at the Jewish Education Project, in an opinion piece for eJewishPhilanthropy.
Old questions, new answers: "These, of course, are the most existential of missions when it comes to antisemitism education. But the questions that come are often far more tangible: Should I respond to the swastika-laden replies on my Instagram post, or should I just ignore them and move on? What do I say when I'm put on the spot as the only Jewish student in my class? Antisemitism has become an increasingly vocalized problem in the United States. A string of celebrities giving voice to antisemitic sentiments – Ye, Kyrie Irving and Dave Chappelle, all in quick succession – brought to the forefront a reality that has been festering for longer than many realize. Antisemitism remains deeply present and ingrained in the psyches of many, and we're faced with the unanswerable question: Why do people hate us? And simultaneously, what can we do to stop those who do? For Jewish educators, our learners are living these questions and looking for new answers."
Allies, influencers, agents for change: "Antisemitism is not a Jewish problem. It's a global problem, of which Jews are the unfortunate victims. How can today's Jewish teens, who are so used to being loud, proud and empowered agents for change in the world, navigate responding to hatred while not dignifying it, be allies while now needing allyship themselves and connect to their Jewish identities when influencers are using their platforms to peddle hate and lies?"
Worthy Reads
Goodbye, Giving Tuesday?: While many casual donors have embraced Giving Tuesday as an annual event, the day recasts charitable giving as an infrequent practice, rather than part of one's life, Ray Gary writes in NonProfitPRO. "With all the knowledge, tools and technologies available for fundraising today, nonprofits must ask themselves what more they could be doing or do better, to help ignite a culture of generosity. At stake is an extraordinary opportunity to reposition giving in the minds of ordinary donors from an annual, one-day, exceptional occurrence to something they embrace as part of their day-to-day lives….By reorienting themselves so that they are interacting with donors as real people — and reaching out to them throughout the year in consistent, personalized, relevant ways — nonprofits can leave each donor feeling acknowledged and recognized as an advocate and a catalyst for change. The more progress nonprofits make in this direction — from being transaction-driven to relationship-minded — the more donors will come to see their advocacy as a regular, perennial feature of their lives. Giving becomes interwoven with other aspects of their lives that they deem valuable and worth sustaining." [NonProfitPRO]
My Name Is — What?: There has been a nationwide increase in anonymous giving among major donors, raising concerns about potential fraud or dark-money abuses and questions about donor privacy, John Russell writes in Inside Indiana Business. "The tension between donor privacy and public disclosure has played out for years in state legislatures, courts, and other public forums. It comes as anonymous gifts are on the upswing again nationally after several years of decline. Around the country, universities and other not-for-profits are landing massive anonymous gifts. Last year, McPherson College, a small, liberal-arts college in suburban Wichita, Kansas, received an anonymous half-billion-dollar 'double match' gift, meaning the donor pledged to contribute two dollars for every dollar given by others, up to $500 million. It was the largest gift in the private college's 136-year history… Some public watchdog groups say they are alarmed by the rise in anonymous gifts to universities, churches, health foundations and other not-for-profits. They say the anonymity can hide the source of funds that could potentially change the face of communities or public policy. Gifts to universities from donors, anonymous or not, can be used to influence curricula, tenure decisions and other important matters, critics say." [InsideIndianaBusiness]
Around the Web
Hebrew College, the Boston-area pluralistic rabbinical school, will allow its students to have interfaith relationships, according to JTA…
The Zalik Foundation has given $1.8 million to Hillel International to expand the organization's mental health program to 32 campuses by 2025. The program, which currently runs at 14 schools, aims to give students ongoing care…
Holocaust survivor Lily Ebert, 99, was made an MBE, a British honor, due to her work in Holocaust education. Ebert has gained fame for her TikTok videos about the Holocaust…
To mark the end of her 16-year tenure as COO of the Mandell Jewish Community Center in West Hartford, Conn., Annie Keithembarked on a "philanthropic adventure," participating in 16 JCC activities over 16 days. For each activity, she made a contribution to her fund at the local Jewish Community Foundation to benefit the Mandell JCC, and asked others to make gifts to the fund. Keith will next serve as CEO of the Levine JCC in Charlotte, N.C.…
Eighth grader Ammi Rotberg of Bloomfield Hills, Mich., received the Annual David Hermelin Scholarship Award, a prize that goes to a student at one of six Metro Detroit Jewish day schools. The award is named for Detroit philanthropist David Hermelin and given to a student who demonstrates academic excellence and shows leadership; it includes a financial scholarship…
The San Francisco-based Jewish Community Federation's Day of Philanthropy will honor two Bay Area philanthropists: federation board member Laura Lauder and Adam Swig, an event organizer and the founder of Value Culture, an arts organization. News anchor Katie Couric will be the featured speaker….
Prolific British businessman and philanthropist Michael Hellerdied at 86. He was a supporter of Israel and was knighted in 2013 for his service to the community and his support of charities…
Pic of the Day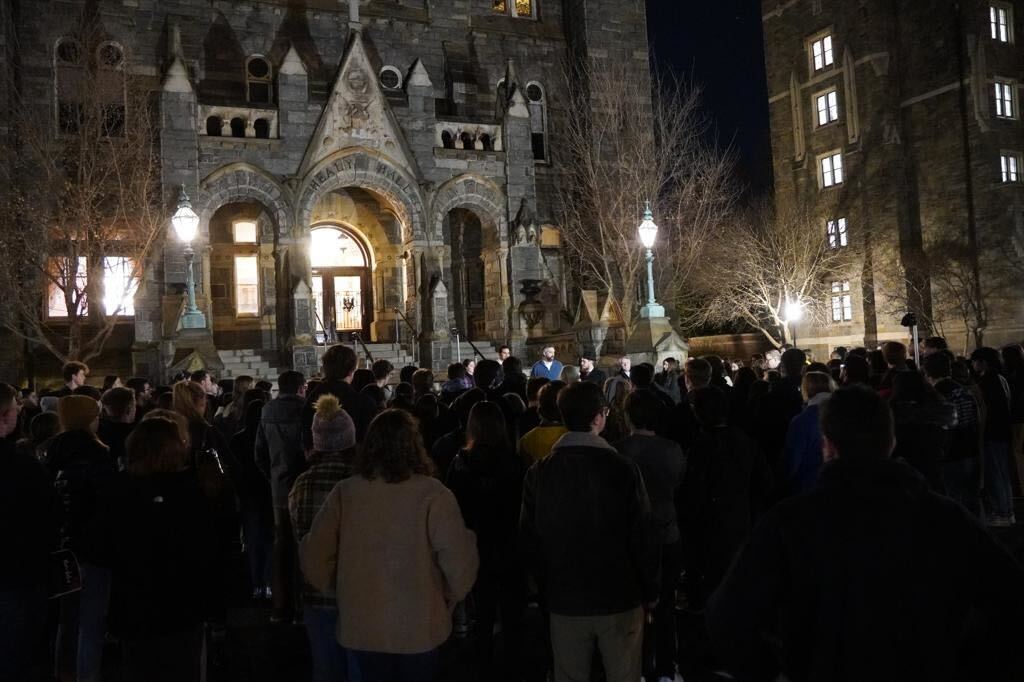 Hundreds of members of the Georgetown University Jewish community and supporters assembled for a Havdalah ceremony on Saturday night following an incident in which a swastika was found scrawled in one of the university dorms. Prior to reciting the Havdalah, Jewish Student Association Co-President Joseph Abergel said, "Just as the wicks of the candle are intertwined and dependent on one another, the Georgetown community is a tight-knit community that supports and uplifts one another, as seen today. And just as the fire of the candle brings light and warmth to the darkness, let us inspire and bring hope in the face of adversity."
Rabbi Menachem Shemtov, director of Chabad Georgetown, and Rabbi Daniel Schaefer, director of Jewish life at Georgetown, also spoke during the program.
Birthdays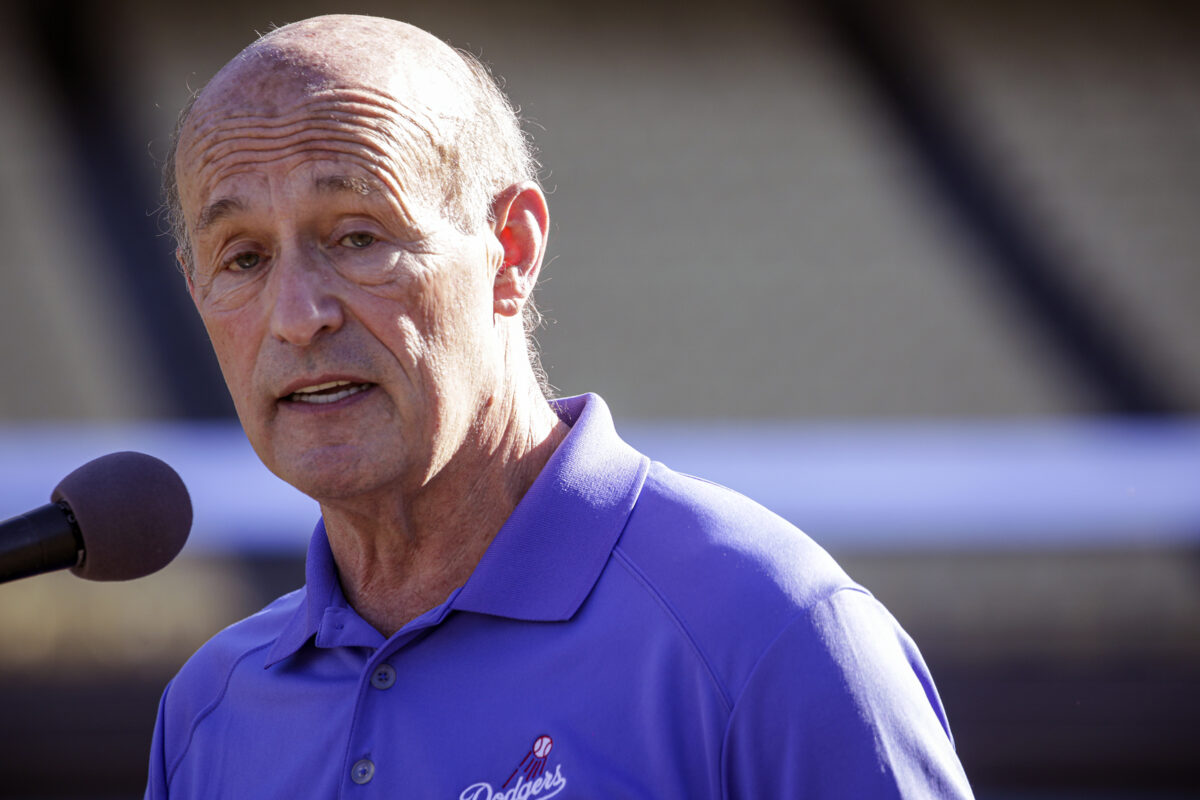 President and part-owner of the Los Angeles Dodgers, he was previously president of the Atlanta Braves and Washington Nationals, Stan Kasten… 
Vice chairman of the Conference of Presidents of Major American Jewish Organizations, Malcolm I. Hoenlein… Mediator and arbitrator, he is a past president of the Beverly Hills Bar Association, Howard S. Fredman… Midtown Manhattan physician, affiliated with Lenox Hill Hospital, specializing in Nephrology and Internal Medicine, Mark H. Gardenswartz, MD… Composer and conductor, he is the laureate conductor of the Chappaqua Orchestra since 2002, and author in 1994 of The Jewish 100: A Ranking of the Most Influential Jews of All Time, Michael Jeffrey Shapiro… Far Rockaway, N.Y., resident, Maurice Lazar… Publisher of Baltimore Jewish Life, Jeff Cohn… CEO of the Charleston (S.C.) Jewish Federation, Judi Corsaro… Born in Derbent in Southern Russia, now living in Albany, N.Y., he is an artist whose oil on canvas paintings have many Jewish themes, Israel Tsvaygenbaum… Director for policy and government affairs at AIPAC, David Gillette… 25-year veteran of the Israeli foreign service including a three-year stint as DCOM at the Embassy of Israel in Washington, now a scholar-in-residence at American University in Washington, Dan Arbell… EVP and chief program officer of the Jewish Federation of Greater Los Angeles, Becky Sobelman-Stern… One of Israel's top soccer players of all time, successful on both Israeli and European teams, Eli Ohana…
Actor, comedian, director, writer and producer, Pauly Shore… Voting rights and election law attorney, he advises the DNC, DSCC, DCCC and the DGA, Marc E. Elias… Mid-Atlantic regional director for AIPAC, Tara Brown… Managing director of Pickwick Capital Partners, Ari Raskas… Canadian actress, her stepfather is a rabbi, Rachelle Lefevre… Experimental jazz guitarist, bassist, oud player and composer, Yoshie Fruchter… Venezuelan journalist, writer and TV and radio presenter, Shirley Varnagy Bronfenmajer… Libertarian political activist, radio host and author, Adam Charles Kokesh… Comedian, writer, actress and illustrator, best known for co-creating and co-starring in the Comedy Central series "Broad City," Abbi Jacobson… Account executive at Google focused on elections, Andrew Friedman… Sportscaster and sports reporter who covers the New York Mets for SNY, Steven N. Gelbs… AVP for health policy at the University of Southern California, Stephanie Beth Cohen… Member of the U.S. House of Representatives (D-CA), Sara Jacobs… Fourth year resident physician in the Ob-Gyn program at Emory University School of Medicine, she is married to U.S. Senator Jon Ossoff (D-GA), Alisha Sara Kramer… Brand marketing manager at Smore, David Aryeh Leshaw… Television and movie actress and model, Julia Garner…