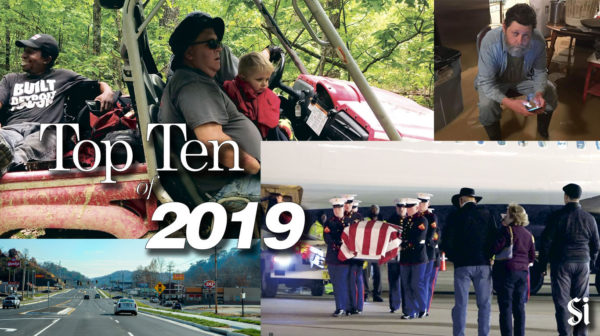 Another year in the books! With the close of 2019, the Independent looks back at the top 10 stories we covered during the year, along with some honorable mentions, while looking forward to all the changes to come in 2020.
1. Toddler found in the woods after 3 days
A 22-month-old was found alive and in good condition on May 15 after being missing for three days. Search and rescue crews came from all over to assist in the search, with drones and dogs used, but a small group of volunteer fire fighters found Kenneth Howard while doing a foot search of the area.  
2. Body of Korean War soldier brought home
After 69 years since his death in battle during the Korean War, Marine Corps PFC Ray Palmer Fairchild's body was finally brought back to Magoffin County this year. Fairchild was killed in action on November 27, 1950, at the Battle of Chosin Reservoir near Yudam Ni, North Korea, where his remains could not be recovered. After the war, the United States and North Korea exchanged the remains of casualties, but Fairchild's were among those unable to be identified until earlier this year. Using DNA samples from his brother and matching his wounds to the reports of the soldier who witnessed his death, the US was able to finally identify Fairchild's remains. In November, he was flown back to Kentucky and was given full military honors as his body was laid to rest in his family's cemetery. 
3. Notable Deaths
– Russel Howard, age 50, passed away on January 12 following complications from a liver transplant surgery. Howard had worked for the Magoffin County Schools District for 26 years, with the last 10 years of his service as the assistant principal at North Magoffin Elementary.
– Connie Owens Cecil, 72, passed away on March 2. Cecil was a long-time art teacher for Magoffin County Schools, artist and florist.
– Connie Wireman, 78, passed away on June 20. Wireman was a retired teacher and one of the co-founders of the Magoffin County Historical Society, which has been instrumental in uncovering many families' genealogy information and history for the community. 
– Jerry Patrick, 79, passed away on September 5. Patrick was a long-time volunteer assistant basketball coach for the Magoffin County school system and was known as one of the biggest super fans in the high school's history.
– Randall Risner, 62, passed away on October 26. Risner wrote "The View from Puncheon Creek" in the Independent for many years. He was a Union carpenter and millwright by trade, as well as a farmer, but was most notable for being instrumental in the Magoffin County Civil War Committee, pushing for and eventually succeeding in bringing about what is now the Battlefield Park, located on Half Mountain Road.
– Henry J. Joseph, 78, passed away on October 29. Joseph had served for many years at the local DAV commander, as well as was a member of the Plumbers and Steam Fitters Local Union #248, the Salyersville Masonic Lodge, District 3 Volunteer Fire Department and the Salyersville First Baptist Church. He had served on several local committees and boards and was known for his community service. 
4. Flooding heavily impacts Magoffin County
The late-February and early-March flooding caused over $2 million in damages in Magoffin County, with over 200 sites approved for FEMA projects. To date, there are approximately 80 sites to still be repaired. At one point, the nursing home residents had to be evacuated and over 30 roads were completely impassable. 
5. Ambulance service sells to another company
Back in January 2019, it was announced that Trans-Star was to be sold, which was made official in April as Lifeguard took over the reins of the company. Since then, the transition has been a bit rocky, with the fiscal court most recently deciding to apply for a certificate of need for ambulance services in Magoffin County in case Lifeguard cannot fully cover the county's needs, but this is a story that will be covered well into 2020.
6. Special Olympics chapter started in Magoffin
After months of meetings to gather public input and jumping through several hoops, a local group officially started a local chapter with Special Olympics, with the local athletes finally competing in regional and state events as a Magoffin County team.
7. Logan Corp celebrates 1,000th body
In April, Logan Corporation celebrated selling their 1,000 dump body. Logan, which is located where Joy Global was (formerly Continental Conveyor), and specializes in high-end dump truck bodies.
8. Pressure Sore Awareness Day held statewide in honor of Bridgett Howard
Earlier this year the Kentucky House of Representatives passed a resolution, sponsored by Rep. John Blanton, designating October 12 as Pressure Sore Awareness Day in remembrance of Bridgett Ann Howard. Howard, who was the daughter of Tommy and Kathy Howard, was born with spina bifida, but in 2012 suffered from pancreatitis, during which she developed pressure ulcers. Howard lost her battle on October 12, 2013, after becoming septic. A ceremony was held in Magoffin on October 11, remembering Howard, with Blanton announcing that he had worked with the Cabinet for Health and Family Services, amending a Kentucky Administrative Regulation to include stiffer fines for pressure ulcer violations.
9. Restaurant Row construction completed
The project, which started several years ago, finally wrapped up in November, with all four lanes and the access roads in the Restaurant Row portion of the Mountain Parkway now open to traffic.  
10. Veterans honored by community
The Magoffin County Fiscal Court and Magoffin County Judge-Executive Matt Wireman started a group, the Veterans Recognition Committee, to identify and honor local soldiers who were killed in action, prisoners of war and/or exemplified exceptional service to their country. To date, the following soldiers have been honored with resolutions and signage in the community: SGT First Class James "Melvin" Rudd (POW during Korean War); brothers GM3C William "Byron" Whitt (who was on the USS Arizona during the attack on Pearl Harbor and is still entombed on the ship) and PFC Forest Whitt (died in battle in Okinawa); CPL Floyd Franklin "Skidmore" Patrick (Korean War veteran honored with the Silver Star, Bronze Star and many commendations for his heroic actions); PFC Ray Palmer Fairchild (KIA in North Korea and whose body was unidentified until this year); CPL Paul Harrison Cordell (wounded in battle in France during WWII, and died three days later); and PFC Blaine Minix (KIA in France during WWII).
Happy 2020, everyone, and thanks for reading the paper!